How to travel from Schiphol Airport to Amsterdam City
 Travelling from Schiphol Airport Amsterdam to Amsterdam is a 25 minutes drive with a car. Schiphol Airport is very easy to reach by public transport,  taxis and maybe somewhat less obvious (not for the dutch) you can also reach the airport by bike. Below we provide information about how to travel from Schiphol to Amsterdam by Taxi, Train and Bus.
Travel from Schiphol Airport to Amsterdam by taxi
If you have just arrived at Schiphol Airport and you need a taxi to Amsterdam, then you can follow the Taxi signs to get your taxi.  Every day there are endless taxi rides to and from Schiphol. As a traveller, be careful not to be fooled by one of the drivers. Know where to look out for to ensure that you take an official taxi to Amsterdam. There are 24/7 taxis (sedans and minivans) available at the airport, from Uber taxies to limousine companies.
Travel with a premium limousine taxi provided by Chauffeur Services Holland. This private transfer service from Schiphol Airport to Amsterdam is ideal for passengers with children, large companies and passengers with baggage. And of course for the one that wants to travel hassle-free and wants a private chauffeur waiting for them upon your flight arrival. This service is more expensive than a trip by bus or train, but you know the price in advance and can put it in your budget. The price will not change.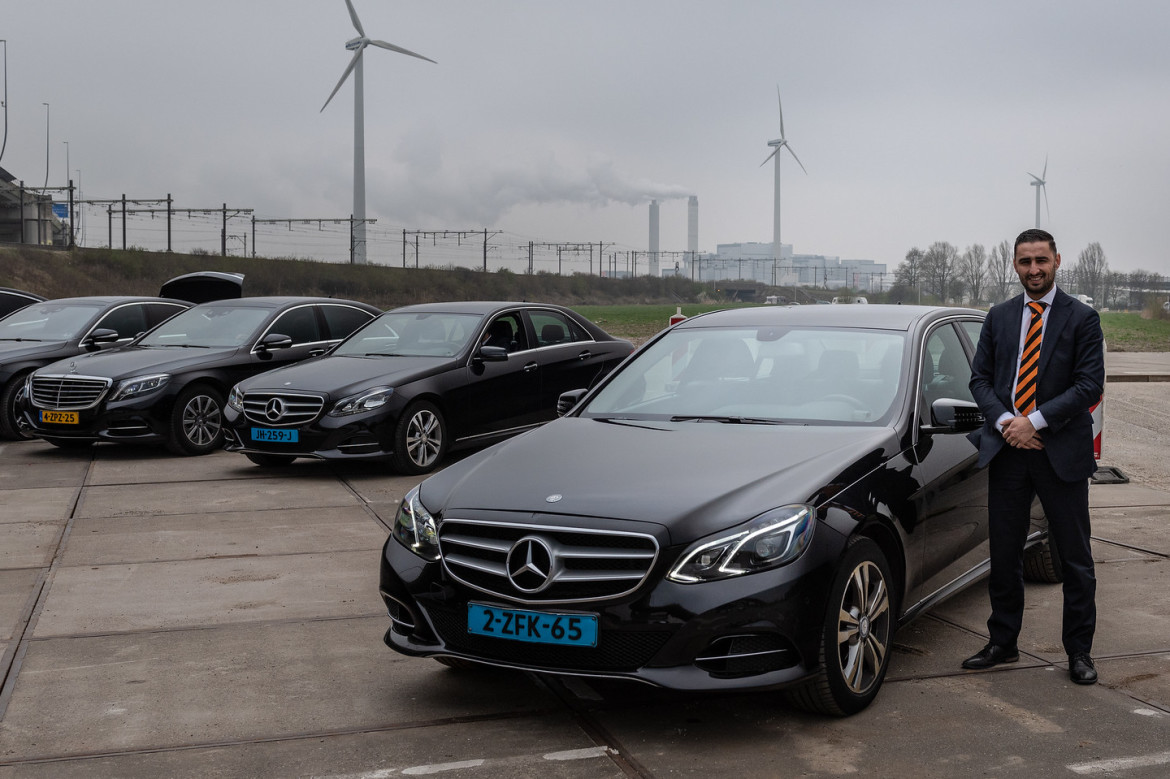 Travel from Schiphol Airport to Amsterdam by train
There is a big train station underground Schiphol Airport Amsterdam. You can take a train from anywhere in the country (with your luggage) to catch your flight. And you can take a train from Schiphol Airport to any station in Amsterdam. (or somewhere else)
All train stations in Amsterdam:

Amsterdam counts 10 train station (11 including Schiphol Airport)
Amsterdam Central Station
Amsterdam Amstel Station
Amsterdam Bijlmer Meer Station
Duivendrecht Station
Amsterdam Zuid Station
Amsterdam Rai Station
Amsterdam Sloterdijk Station
Amsterdam Muiderpoort Station
Amsterdam Science Poort Station
Amsterdam Holendrecht StationVisit the NS (Dutch railway operator) website to calculate your journey time and price: A single train ticket from Schiphol Airport to Amsterdam Central
https://www.ns.nl/en/travel-information
Note: When you buy your train ticket online you pay €1,00 less than when you buy your ticket at a vending machine on the station!
Travel from Schiphol Airport to Amsterdam by bus
Schiphol Airport Amsterdam has an excellent bus connection with all surrounding cities and sites. The Schiphol bus stops are located right outside Schiphol Plaza. There are city and regional bus lines, and also special shuttle buses that you can take to your hotel. The fast and easy way to travel between Schiphol Airport and the centre of Amsterdam is with Connexxion Express. An advantage of travelling by bus instead of the train is that the bus passes many tourist highlights in the Centre.
Bus checklist
Plan and calculate your journey at 9292.nl
Buy a public transport card from the yellow ticket machines at Schiphol and most stations
Make sure you have at least € 10 credit on your public transport card
Always check-in and out when you enter and exit the bus
Wear your face mask on the bus
About Chauffeur Services Holland
Chauffeur Services Holland is one of the best professional limousine services in the Netherlands. With years of experience providing quality service to its clients. We offer comfortable and affordable limousine services for prestigious companies, VIP clients, and tourists to make sure they have the best time visiting the Netherlands. Whether you're planning on visiting Amsterdam for business or pleasure, our professional taxi services offer unbeatable luxury, safety, and comfort for your trip!
Get in touch with us today for more information regarding our fleet and prices!