What is the best way to travel from Amsterdam to Rotterdam Centre
Are you traveling from Amsterdam to Rotterdam and do you want to know which way of traveling suits you the best? In this blog, we highlight the three ways to travel from Amsterdam Center to Rotterdam Center. We look at the three options; – Price (the cheapest) – Fastest way – Most comfortable Distance from Amsterdam Central to Rotterdam Central is 76 km. For this blog, we travel by train, bus, and taxi. For the train and bus, we travel from Amsterdam Central and we calculate the route via the website 9292.nl (this is a website where you can calculate your route for public transport). To travel by bus from Amsterdam to Rotterdam, we discovered that FLIXBUS is the best choice. And for the people who want to travel privately, we compare the luxury taxi service of Chauffeur Services Holland and low budget taxi companies. (Uber and TCA)  Travel from Amsterdam to Rotterdam. 
Summarized.
Cheapest – Flixbus (from € 7.99)
Most relaxed – Taxi (from € 100.00)
Fastest journey – NS Train (€ 16.40) 
Travel from Amsterdam to Rotterdam with the TAXI 
If you want to be brought from door to door without stopovers than the taxi is the ideal solution. Order a taxi in Amsterdam from your phone easily. If you are looking for a budget taxi that can drive you to Rotterdam as cheaply as possible, you can book with taxi companies such as UBER or TCA (Taxi Centrale Amsterdam). They have a large driver pool and can, therefore, provide you with a cheap taxi at any time of the day. You can book a taxi from Amsterdam Center to Rotterdam center between € 100.00 and € 180.00 for a single ride. (up to 8 people)
Travel from Amsterdam to Rotterdam with low-budget Taxi
If you search for "cheap taxi" on the Internet, you will find many online taxi platforms who work with local taxi companies. Through this collaboration, these websites can offer a ride from Amsterdam Central to Rotterdam Central for less than 120 euros. In Amsterdam and Rotterdam, there is a real competition between taxi companies for Schiphol airport rides. They try to combine the journeys as much as possible in order not to have to drive back empty. This battle means for you, as a traveler can book a low-budget taxi.
Be always sure that you travel by an official taxi. Just keep in mind that it is not always self-evident to experience excellent service from a low-budget taxi company. For example, you may have to wait for your taxi because the driver has a delay in his schedule, or you may get a driver who is tired or hasty because the next ride is coming shortly after you. In the worst-case scenario, you are dealing with an unprofessional driver who does not follow the taxi rules or you have a car that is dirty because it has already driven ten passengers before you. Of course, the low-budget taxi companies also have drivers who understand their profession and from which you receive good service. Only this is a surprise until the driver shows up. If you don't have high expectations and you are flexible in your schedule.  Then a low budget taxi is a perfect solution for you to travel from Amsterdam.
 From Amsterdam to Rotterdam with Chauffeur Services Holland
Are you booking a taxi for someone else or do you want to travel without surprises? And do you want to be sure that professionals drive you? Do not take any risks and book your taxi at Chauffeur Services Holland (CSH). CSH is a Limousine Taxi company that provides professional taxi services in Amsterdam and Rotterdam. You can calculate and book your ride via their website. The rates vary between € 120 and € 190. (depending on the number of passengers and pick up & drop off location.) CSH always provides a professional English speaking driver, they are on location 10 minutes before the scheduled pick up time. We ensure that the door-to-door ride is smooth. CSH is ideally suited for the business traveler who wants to focus on the business and not on transportation.
The benefits of traveling by taxi The advantage of traveling by taxi is that you travel in private. And travel without all the incentives that you have on public transport. Think of large groups of people around you, risk of delays of your bus or train, your fellow passengers, and the search for your platform or bus stop. You can work from the taxi, relax for a moment by taking a power nap. In short, if you travel by taxi, you are always assured of a seat and you travel comfortably and relaxed from door to door without having any hassle.
Getting from Amsterdam Central to Rotterdam Central by train.
The fastest way to travel from Amsterdam Central to Rotterdam Central is by NS train. This is by far the fastest way to travel from center to center. We have entered the route on 9292.nl and the route calculation indicates that you can get from Amsterdam Central to Rotterdam Central Station in 40 minutes with the NS Intercity train, without stopovers. You take the Intercity to Breda or Vlissingen. This Intercity has a stop at Schiphol Airport. An Intercity departs every 30 minutes towards Rotterdam.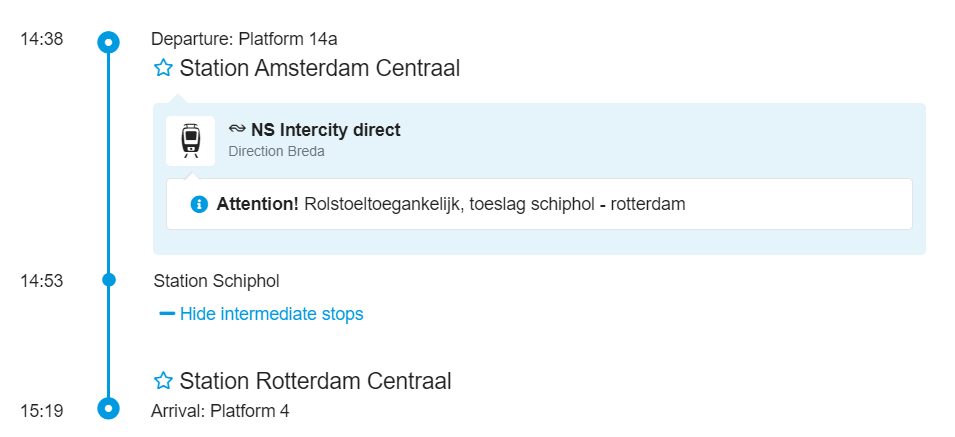 Journey time:                    40 minutes  Price of the Journey        €16,40 Source:                                 9292.nl In addition to the Intercity, there is also a stop train from Amsterdam Central to Rotterdam Central whether you switch to Leiden Central or via Utrecht Central. This train stops at many stations.
The benefits of traveling by train in The Netherlands The trains in the Netherlands are generally comfortable to travel with. They have a toilet on board, comfortable seats, and on some times of the day, they offer rail catering (outside rush hour). Furthermore, you can use Wifi for free, and if you want to work in silence, you can take a seat at the silence coupe. You can also book a business class ticket to have more comfort.
Good to know In the morning rush hour (6:00 am to 9:00 am) and the afternoon rush hour (3:00 pm to 7:00 pm) it can be busy on the trains. Please note that a seat is not always guaranteed. Therefore, try to travel outside rush hour.
Travel from Amsterdam Centraal to Rotterdam Centraal with The FLIXBUS.
If we enter the route Amsterdam Central to Rotterdam Centraal on 9292.nl, your journey time will be almost 3 hours, and you will have to change to the metro and bus. Traveling by public transport is not recommended because it is a long journey with many changes. If you want to travel affordable and cheaper than a taxi or train than the best way to travel is with the FLIXBUS. FLIXBUS offers cheap bus tickets for cities to all over Europe. You need to reserve a seat online via Flixbus.nl. When you are traveling from Amsterdam the Flixbus does not depart from Amsterdam Central but from Amsterdam Sloterdijk and Schiphol Airport. From here, you have a direct connection to Rotterdam Central Station or Rotterdam Zuidplein. These buses are scheduled from/to Amsterdam-Rotterdam a few times a day.
Journey time:                   75 minutes Price of the Journey       €7,99 Source:                               Flixbus.nl
The benefits of traveling with Flixbus Flixbus offers free Wifi in all its buses, has a toilet and there is room to store your luggage. It is the cheapest option to get from Amsterdam to Rotterdam. Many people use Flixbus. Dutch and not Dutch people. So there is a good chance that you can sit next to a tourist or an international student. Traveling on the bus gives you a cozy feeling, and you can easily talk to your fellow passengers. If you are not very demanding and an adventurer, the FLIXBUS is the way for you to travel from Amsterdam.
Conclusion
Travel from Amsterdam to Rotterdam on your way. The choice of traveling by taxi, train or bus depends on your personal wishes. If you are looking for a low-budget way, the FLIXBUS is the solution for you. If you travel for business, the taxi from Chauffeur Services Holland can be the solution. From Center to center the NS intercity train is the fasted choice to travel with. In short, however, you travel from Amsterdam to Rotterdam, always prepare your journey in advance. so that you don't have unexpected surprises! And if you get stranded somewhere for some reason, contact Chauffeur Services Holland and we will help you arrive at your final destination.  CSH wishes you a safe trip!   Useful links: www.9292.nl www.flixbus.nl www.chauffeurservicesholland.nl
Images: