What is a Meet and Greet Service for Airport pickups?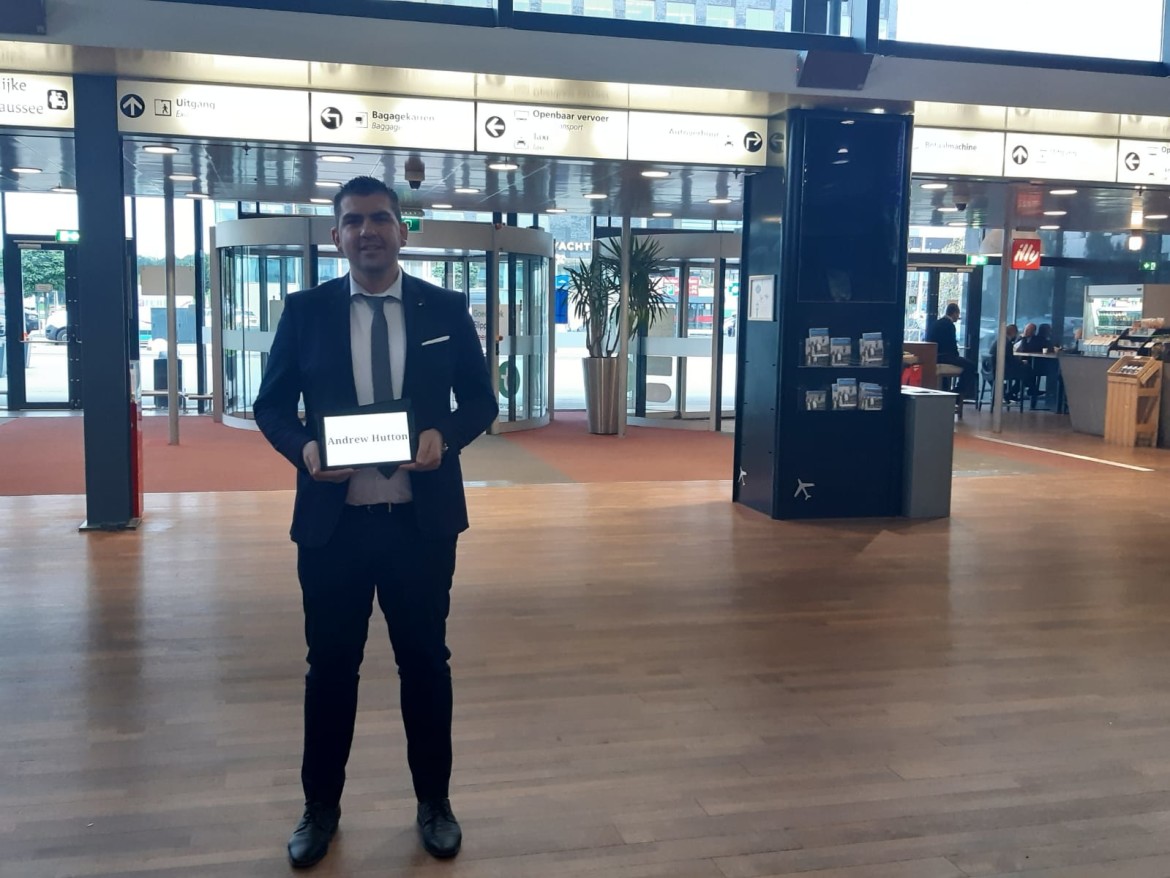 Meet & Greet Service is an exclusive and personalized service that ensures you have a professional chauffeur waiting to welcome you to the airport you are arriving. A Meet & Greet service comes most of all together with private taxi and limousine transfers. You will have all the assistance you need to guarantee your arrival is comfortable.
Meet and Greet Service with Chauffeur Services Holland
Our Meet & Greet Service begins the day before you travel when we contact you with a text message. It will include the contact details and name of the chauffeur who has been personally assigned to take care of you. For your security and convenience, it is important that you save this information. While you are in the air we monitor your flight so that your chauffeur is aware of any alterations that may affect your scheduled arrival time. As soon as your plane has landed]we will send you another text message with the precise details of which departure gate your chauffeur is waiting at. After you have fulfilled the customary passport inspections and collected your luggage, you'll be able to meet your chauffeur who will be waiting for you at the appropriate gate. After welcoming you, your chauffeur will personally take charge of your luggage and assist you with any additional services. Maybe you need to go to a shop or a cash ATM machine. Your chauffeur will be pleased to guide you and wait for as much time as you need while you use any of the facilities. With the exclusive CSH service, you can be assured that your arrival and subsequent journey to your chosen destination is calm, relaxed and supremely comfortable. Benefits include:
Safe and secure text messaging before you travel and on arrival
Your own personal chauffeur
Assistance with luggage
Relaxed and calm atmosphere
Meeting your Chauffeur in complete Safety
Our streamlined procedure ensures your safety and comfort at every stage of your arrival, particularly when meeting your chauffeur. It is part of our exclusive service to locate and safely escort you throughout your arrival rather than leaving you to try and find your chauffeur on your own. All you have to do is a phone or send a text to your driver using the security details you were provided with the day before. There are many distinctive features within the airport which will enable you to accurately describe where you are. Then you simply wait in that location for a few moments until your chauffeur comes to collect you. If unforeseen circumstances require you to move to another area always keep your chauffeur informed. Alternatively, if you think you have seen your driver holding a sign indicating your name, your company's name or its logo, as an extra security check to confirm that he is actually your assigned driver, simply send a text message or phone him using your allocated details before you make an approach.
How you benefit from a Meet-and-Greet Service
Schiphol Airport is in the Haarlemmermeer district of The Netherlands. As the principal international airport terminal in Holland it is situated just nine kilometres from the center of Amsterdam. It is one of Europe's busiest air terminals supervising more flights than any other airport and accommodating the third highest level in passenger traffic in Europe. Although the building itself is designed as a single terminal it is arranged into four departure halls which can often present an overwhelming appearance to newcomers. It can understandably be difficult on occasions to negotiate your way or identify your chauffeur amongst the large crowds that gather there. Our personalized service is designed to provide reassuring assistance to calmly reach the exit quickly and safely enabling you to continue your journey without interruption or unnecessary delays.
Superior Personalised Chauffeur Services
 All of the chauffeurs provided by Chauffeur Services Holland show exemplary levels of professionalism. They are friendly and polite with polished, courteous manners that ensure you receive the warmest of welcomes whenever you travel to the beautiful city of Amsterdam. In addition, they are all fluent in English as a second language. Our chauffeurs are trained to the highest levels in hospitality services and possess the patience and skills to create a relaxed atmosphere at all times. You'll find our services particularly beneficial if you have had a stressful flight. You can truly depend on the professional assistance of our chauffeurs within the airport and on the transfer to your destination.
Professional Chauffeurs
Excellent Linguistics
Superb Driving Skills
Special Arrangements for every Traveller
CSH offers flexible arrangements for parties of all sizes. When arriving as a larger group we always monitor every access point to ensure that every member of your party is located quickly and receives appropriate attention. Our chauffeurs can also collect you from the airport's VIP lounge if you are arriving by a private airplane. Our fleet of Mercedes limousines, multi-seat vehicles and coaches are maintained to the highest standards to ensure every journey you make is continued in luxurious comfort and style.
A Streamlined Professional Service
 We offer an unrivaled, affordable service that concentrates on providing the ultimate in customer care by providing you with guaranteed attention before you have even boarded your flight to the Schiphol International Airport. Whether you are traveling to Holland for business or pleasure you can be confident that your private taxi hire is secure, safe, and comfortable. Our company will ensure your arrival at the airport is relaxed, guiding you through crowds, locating facilities and dealing with your luggage. You will also have the convenience of a streamlined taxi service that is prompt and efficient, avoiding any delays in continuing to your destination. Your private taxi transfer enables you to enjoy a smooth, uninterrupted journey. When you pre-book a private taxi from Chauffeur Services Holland before you travel, you will receive personalized professional attention of the highest quality that is perfectly tailored to meet your requirements. Our exclusive, cost-effective service provides you with peace of mind and ensures your arrival in Holland is a safe and comfortable experience