Book a Limousine in Amsterdam
Book a Limousine in Amsterdam –
Amsterdam is one of the top five most visited cities in Europe The business district in Amsterdam South, the colorful homes, bridges, canals, and the medieval architecture make it one of the most picturesque capitals in Europe.
While moving through this beautiful city, what better can you think of than to move in total comfort? Hire a Limo Service in Amsterdam and explore the city in the best way. Whether you've just landed at the airport or you're going for a business meeting or events like birthdays, weddings, and corporate events, a limousine service is more than worth it. There's nothing further from the truth than the misconception that limo services are reserved for rich people only. Here are the top 5 reasons you should consider a limousine service in Amsterdam.
# 1 Convenience and Comfort 
It's wrongly presumed that limo services are overly priced. However, you do not need to break the bank to afford a limo ride. What's more exciting about a limo ride is the ability to share the cost. For instance, if you're attending a party with friends, you can share the cost. The limo just has to pick you up and drop you off at a central location. You get to arrive at your destination in style, while just catering for a fraction of the total cost.
No other means of land transport beats a limo ride when it comes to convenience and comfort. Right from booking, all you need do is just book a limo ride from our online bookings page, and from there one we start the service. The ride itself is exquisite. Limousine services prioritize luxury and that means the inclusion of many high-end features. From comfy seats to air conditioning. Many limos also come with exquisite interior decoration, chilled bottled water, and even stocked bars. For your entertainment, there's usually TV screens with WiFi. As a businessman heading for a meeting, this great comfort affords you to keep a cool mind and even prepare for your meeting. To ensure your convenience, limo services can pick you and drop you at any location, any time.
2. Affordability
It's wrongly presumed that limo services are overly priced. However, you should not compare a price a limousine service with a taxi service. Let's take a look. If you book a limousine service, you pay a fixed all-in price per hour. Let's say we book the Mercedes-Benz E Class for a full day (8 hours)  The hourly price for this vehicle is  €75,00. What comes down to €600,00 per day.  (hourly rate differs per vehicle) In these 8 hours, you can spend your time the way you like;  You can book a long-distance journey, you can let the driver wait at your meeting so that you can get in the car directly after your meeting finished. For many executives time is money, and that is exactly what we save. Our Limousine service is efficient. The driver knows exactly your schedule of the day. He knows the addresses where he needs to stop. You can use the backseat of your vehicle as your office. It's all about you, only you.
3. Safety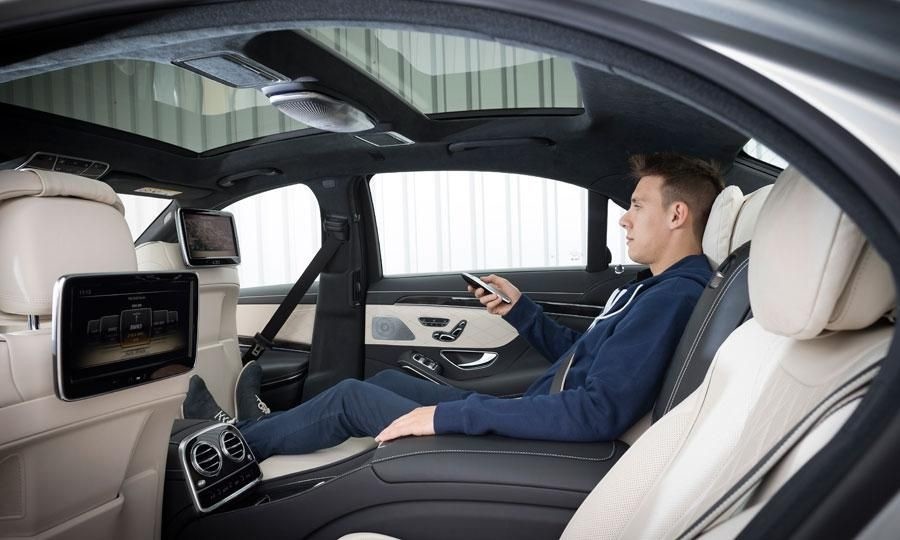 Limousine services hire professional chauffeurs with a wealth of experience. All Our chauffeurs have a professional attitude on the road. This means that whatever the circumstances, they will never get stressed, they anticipate professionally on unexpected situations, and they are always aware of their environment.  They always keep a good distance from objects, people, and vehicles, so you have a visible shield around your vehicle. Their priority is to get you safely and smoothly to your destination. A limousine ride will give you peace of mind so that you can focus on the business you come for.
4. Reliability
When going for that business meeting or you're heading for the airport, arriving late can be costly. If you book a random taxi service like Uber or a local taxi Central it can give you unpleasant surprises. Sometimes you have to wait for your driver because he is finishing another trip, no answering of your phone call, or he is waiting outside in his car. To ensure that you arrive on time, and get into your car without any hassle, you book a Limousine Services. After booking a limousine service, you're guaranteed that your chauffeur will arrive 15 minutes before your pickup time, the chauffeur meets you, at the airport terminal and walks you to your vehicle.
5. Prestigious status 
Let's face it, nothing is as stylish as arriving at your destination in a luxury limousine in Amsterdam. If you're going for a business meeting, arriving in limousine helps boost your status and be a catalyst for getting that deal signed. On the other hand, if you're going to a party or an event, as you step out of the limousine that aura of 'high-class' goes along with you. Due to the comfortability of your trip, you also come out looking refreshed and totally relaxed.
Book a Limousine Service in Amsterdam with Chauffeur Services Holland. 
Chauffeur Services Holland is an experienced Limousine Company in the Netherlands with a high state of service. We proudly serve prestigious companies and VIP's from around the world. and we want you to experience that same luxury and security throughout your stay. Don't miss out on experiencing the most trusted limousine service in Amsterdam.